---
Boiler Water Treatment Systems
Standard and Custom chemical feed systems for boiler room applications.
Among other products dedicated to servicing boiler water blowdown, Madden Engineered Products also offers chemical feed system skids designed specifically for boiler water treatment applications.
Where the ability to help design and build custom chemical feed system skids from scratch can be useful in industrial applications as a whole, we have found that presenting our standard specifications for a boiler water treatment feed system is the best place to start for boiler room applications. Documents for new boiler room projects are often lacking in detail when it comes to the chemical feed system section. Our pre-engineered design is intended to give engineers and end users confidence that the basics are all accounted for and any additions to the skid are simply desired upgrades.
With over 65 years' worth of experience designing and manufacturing boiler blowdown heat recovery systems, boiler blowdown tanks, and custom chemical feed systems, Madden Engineered Products has naturally made its way into boiler water treatment as well.
Over the years we have been approached more and more by end users, engineering firms, and even boiler manufacturers to be the source for their boiler chemical feed system needs.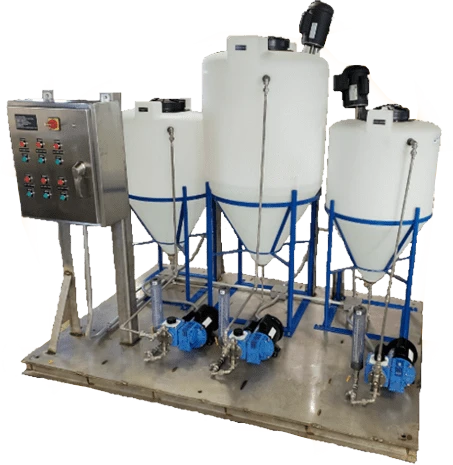 Chemical Feed System Skids for Boiler Chemical Dosing
We are a manufacturer by trade however our industry connections, experience, and knowledge of the boiler room and boiler feed water treatment allow us to be a great place for you to start the process of designing your boiler water chemical treatment skid.
Our knowledge of the process of blowing down water from the boiler inherently lends to a knowledge of treating the water beforehand with chemicals. It is all about understanding and appreciating the importance of keeping your boiler water free of impurities. Clean water means less fuel needed to be burned to boil the water. Blowing down water from the boiler is a crucial part of this as it manually flushes out settled impurities. Clean water means little to no scale build up on the water and fire tubes in boilers, and less dissolved solids floating in the boiler, which means the heat transfer between the burning fuel and the water will be as efficient as possible. Pre treatment of the boiler water with chemicals such as phosphates, amines, oxygen scavengers, and other water treatment chemicals, is another great way to keep your boiler water free of impurities that hinder efficient boiling.
Madden Engineered Products now has you covered better than ever on the chemical feed for boilers. No matter the chemicals needing to be added into your boiler process, our pumps and skidded systems are made to dose accurately and consistently for a very durable service life.
Common Boiler Water Treatment Chemicals: Amine, Phosphate, and Oxygen Scavengers
Oxygen scavengers, phosphates, and amine all work together to keep the water source free of oxygen, they neutralize acidic water, and act as a corrosion inhibitor. Here are the common products used to add these chemicals to the boiler process:
(2 – 3) Low Density Polyethylene tanks, or occasionally 316 SS tanks

Madden uses tanks with cone or bell bottoms so that they are self-draining as well as provide flooded suctions to the metering pumps.
(2-3) Chemical metering pumps

The Madden metering pump designs can dose into systems operating up to 300 PSI. For systems needing to dose directly into high pressure boilers, we can provide high pressure pumps as well.
(2-3) High speed mixers to agitate the boiler water treatment chemicals. This set up allows you to make much larger batches than purchasing pre-mixed 55 gallon drums.
With the ability to mix your own chemicals to whatever concentration, this allows for you to use smaller/slower, less costly metering pumps for the system. Instead of buying huge tanks and pumps to dose the appropriate amount of oxygen scavenger or phosphate into the D/A tank or boiler water feed line, consider a system like ours that allows you to choose the concentration of chemical in the holding tanks.
For most boiler water treatment applications, this ability allows us to design a system with 75-100 gallon tanks with pumps designed with max outputs of 2 GPH.
Included Chemical Feed System Components
Madden designs include all of the necessary piping from tanks to pumps
Pressure relief valves and calibration columns
Control panel to control all motors and level switches
Platform or skid to mount the entire system on
And plenty more optional equipment! Like:

High level alarms
Back pressure valves
Pulsation Dampeners
Tank level indicators
If your boiler water treatment needs call for feed systems with tanks, mixers, metering pumps and controls, Madden Engineered Products has you covered.
Standard and Generic Boiler Feed Water Treatment Chemical Feed System
As mentioned before, Madden now has a focus on offering a standard chemical feed system design intended on being the starting block for boiler water treatment feed systems on any new boiler room project. Here's how this came about, and a bit more on our design:
After an explosion in requests for specifically boiler water treatment feed system in 2017, we decided to converse with some of our more experienced distributors to come up with a standard boiler water treatment chemical feed system, that would cover a broad range of normal boiler room set ups. These industry connections helped us consider all angles of a chemical feed system in the boiler room, from materials used, to sizing tanks and pumps, all the way to considerations for the boiler operator. Their experiences and knowledge, combined with our own, allowed us to come up with a simple, durable chemical feed system for boiler water treatment that covered all the basics.
Below are possible configurations
Madden's boiler feed water treatment chemical feed system Drawing
Madden's boiler water treatment chemical feed system engineering specification sheet
Customized or Standard Boiler Water Chemical Feed Systems start with Madden Engineered Products: We work hard to be the most responsive and readily available firm in this industry
Madden Engineered Products has a standard design that allows us to get you quotes very quickly since everything is already costed out and pricing is monitored throughout the year. Our hope is that this system will help with engineers and end users who are faced with designing a new boiler room or renovating a current one; as well as help the contractors and distributors who are gathering up information to ultimately source all the products needed in said boiler room project.
Madden Engineered Products' generic boiler water treatment chemical feed system is a great design to use when the specifications are sparse. We've noticed many boiler room specification sheets do not offer many details in the chemical feed system for boiler water section. Most distributors, contractors, and reps simply tell us, "offer whatever you would recommend" and this is what Madden and our team of distributors and reps have come to recommend. Our standard design will cover many boiler room set ups needing chemical feed systems.
CONTACT US FOR DESIGN HELP AND PROCURMENT
So whether you need help starting the design, or have specifications that you want built to, contact Madden Engineered Products to start the process. We are excited for the opportunity to help take away some of the hassle from complicated boiler room builds and renevations! Let us take one more task off your plate.