---
HVX & HX Series Blowdown Heat Recovery Systems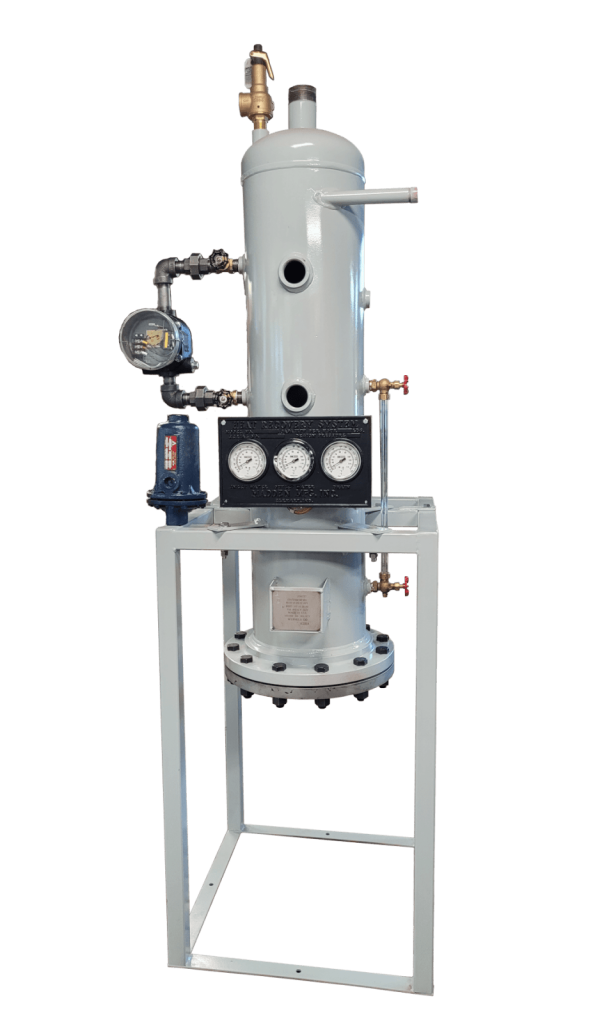 COMPACT AND COST EFFECTIVE HEAT RECOVERY SYSTEMS
(1,500 – 3,000 PPH capacity)
*NEW DESIGN* (LOWEST COST) – Check out our HVX15 on page 6 and 9 in the updated brochure. This unit is perfect for smaller boiler rooms wanting to recover both flash steam and BTU's from a heat exchanger. Our all around most cost effective unit!
SAVES ON FUEL COSTS – Payback is typically < 1 year.
CONSTRUCTION – ASME Div I, Sec VIII vessels, 150 PSI @ 450 deg F. Mechanically actuated design requires little to not maintenance or operator assistance.
FEATURES – Vertical coil type heat exchanger ensures no scale build up, gravity drains, temperature panel, high level alarm, and much more.
SIZE YOUR NEXT UNIT – fill out our proposal data sheet and email it to us to begin sizing a potential heat recovery system for your boiler room.
Check out our Heat Recovery Brochure for more details.
CONTACT US for selection/design assistance and pricing.
OVERVIEW
FEATURES
SPECIFICATIONS
RESOURCES
Madden Type HX Continuous Boiler Blowdown Heat Recovery Systems feature blowdown capacities up to 3,000 lbs. per hour. These HX series heat recovery systems do not use the flash steam principle. But the new HVX15 does.
The HX20, 25, and 30 models act as a small vertical heat exchanger. When hot boiler blowdown enters the unit, it is cooled by passing through a copper or stainless steel tube coil while counter flowing cooling water is passing through on the shell side. The cooled blowdown is then at statute limits for safe disposal and the resulting heated up cooling water is now boiler feed water supplied to the D/A tank.
ASME code welded flash tank and heat exchanger vessel, 150 psi construction Section VIII, Div. 1. With National Board Serial Number and "U" stamp.
Self-Cleaning
Copper and stainless steel coils available
3 temperature gauges showing the drain, feed water inlet, and feed water outlet temperatures.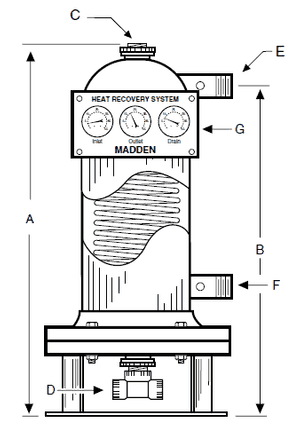 HX Series
Model Number
HX20A
HX20B
HX250A
HX250B
HX30A
HX30B
Capacity (PPH)
2,500
2,000
3,000
2,500
3,500
3,000
Coil Area (SF)
17
17
21
21
25
25
Coil Material
Copper
304 SS
Copper
304 SS
Copper
304 SS
A (OAH)
42″
42″
48″
48″
54″
54″
B
22″
22″
28″
28″
34″
34″
C – BD Inlet NPTF
1-1/2″
1-1/2″
1-1/2″
1-1/2″
1-1/2″
1-1/2″
D – Blowdown Drain NPTF
1-1/2″
1-1/2″
1-1/2″
1-1/2″
1-1/2″
1-1/2″
E- Shell Inlet NPT
2-1/2″
2-1/2″
2-1/2″
2-1/2″
2-1/2″
2-1/2″
F – Shell Outlet NPT
2-1/2″
2-1/2″
2-1/2″
2-1/2″
2-1/2″
2-1/2″
G – Temp Gauges
3
3
3
3
3