---
Compact Chemical Dosing Skids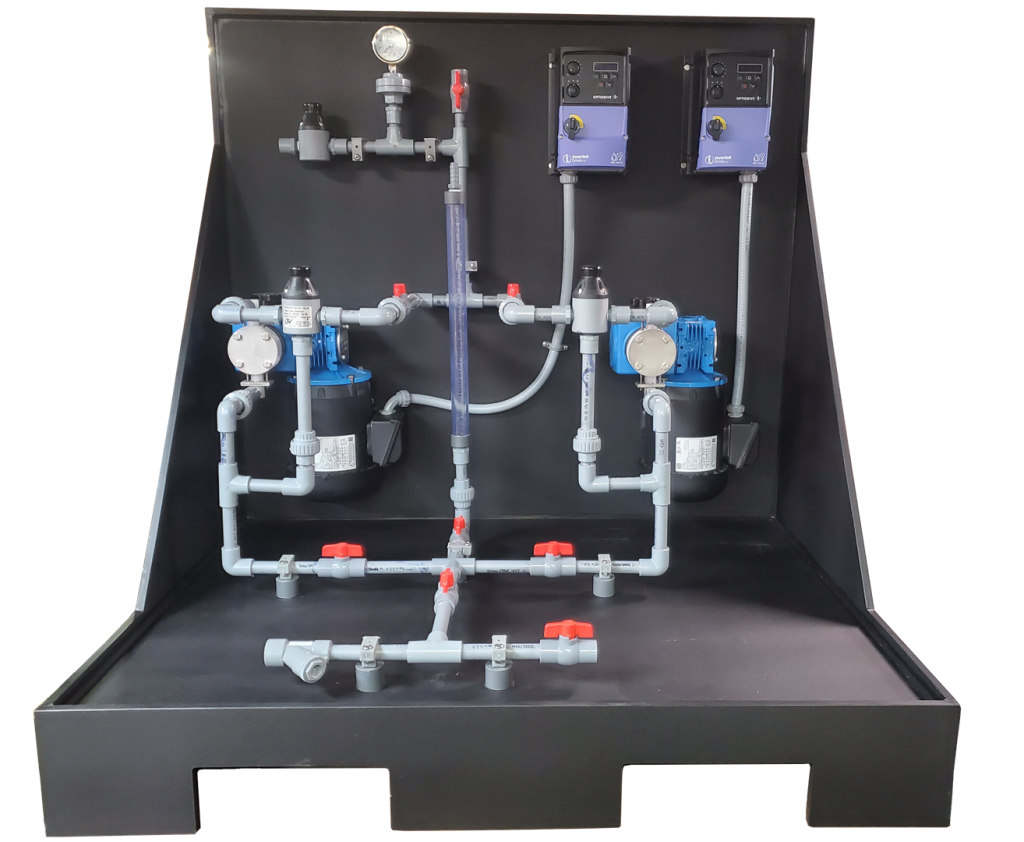 MADDEN TURNKEY CHEMICAL DOSING SKIDS
VERSATILE – Madden dosing skids typically take up 2 to 4 sq. ft of floor space. Easy to install and move anywhere in your facility.
RELIABLE – These systems are designed to provide great service life with little to no downtime other than occasional maintenance of wearable parts.
COST EFFECTIVE – Dosing skids save time and cost in sourcing ancillary equipment and installation. Madden also focuses our standard design to provide what's needed, and not to oversell on other ancillary instrumentation.
Check out our latest DATA SHEET.
CONTACT US to start designing your compact chemical metering skid.
OVERVIEW
COMMON COMPONENTS
ADVANTAGES
BENEFITS
Compact injection skids easily installed in any new or existing chemical feed system.
Madden has offered a "Typical Metering Pump installation Diagram" document for many years, which recommends the proper placement of common chemical metering pump accessories.
Inspired by standard P&ID's for chemical metering applications and the market turning more and more to full turnkey solutions, we now offer what we call mini dosing system skids along with our full chemical feed system packages.
These simple, compact chemical injection skids can be used for many different applications. We have designed them with the idea most clients today are buying pre-mixed chemical in 55 gallon drums, 4′ x 4′ totes, etc. No matter what the chemical storage set up is, these mini dosing systems can be easily implemented and quickly installed near these chemical holding tanks.
Using a boiler room as an example, whether you are currently using (or planning to use) large stainless steel custom tanks, standard polyethylene tanks, 4′ x 4′ x 4′ pre-mixed totes, 55 gallon pre-mixed drums, so on, we can provide a pre-assembled chemical injection skid with a quick connect on the suction line to work with any of these designs.
Our compact chemical dosing systems only take up 2 square feet of floor space. And this accounts for our shop installing pressure gauges, calibration columns, Y-strainers, dampeners, relief valves, and more.
Reach out to us to discuss different design adjustments we can offer with these systems so it can perfectly fit your needs; we build to order!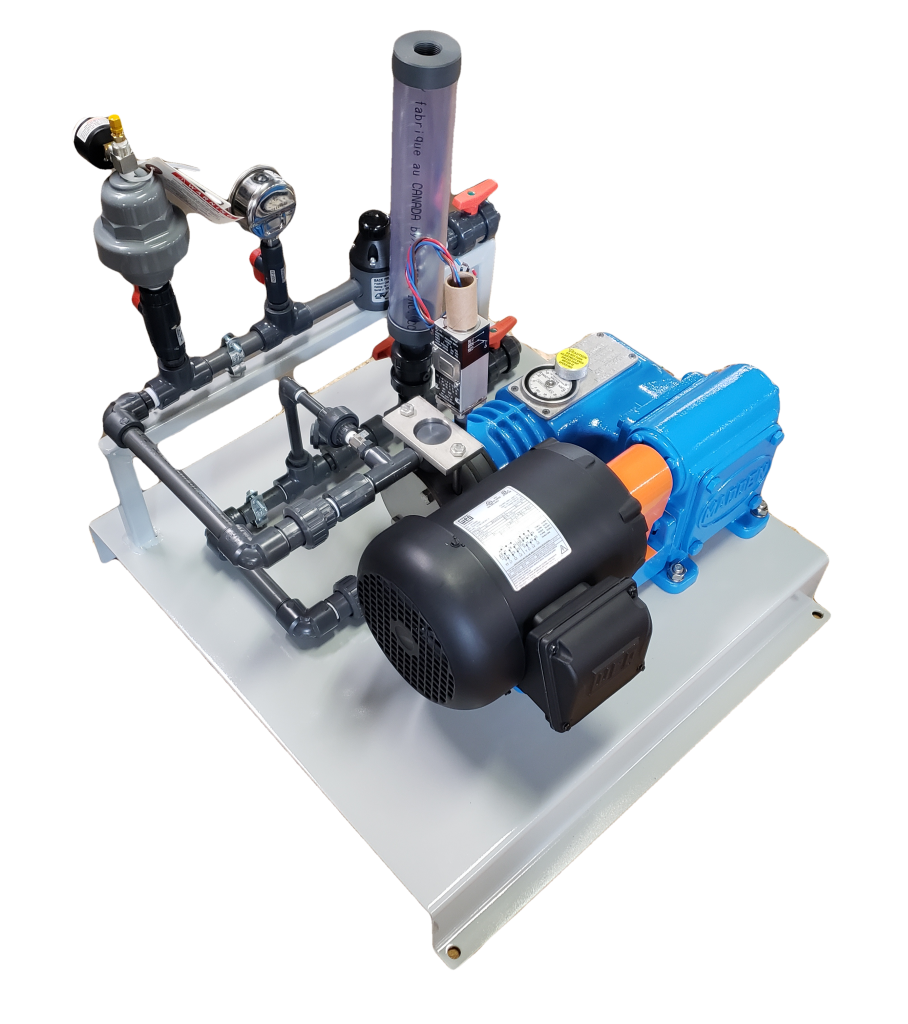 Fabricated skids or platforms, both stationary and portable
Durable, heavy duty diaphragm metering pumps
Y-strainers
Calibration columns
Leak detecting pressure switches
Pressure relief valves
Pulsation dampeners
Pressure gauges
Flow indicators
Back pressure valves
Variable Frequency Drive controllers
Flow meters
Etc.
Materials are usually PVC or 316SS (other choices can be made available upon request)
What are the advantages of turnkey Chemical Metering Pump Packages?
These simple and convenient systems eliminate the need for chemical metering pump Distributors, Reps, and End Users to source all of the accessories that normally accompany a chemical injection packaged system. By nature, chemical injection applications are going to need pressure relief valves at a minimum, and it is strongly recommended by industry experts that back pressure valves, pulsation dampeners, and pressure gauges are also installed in the system.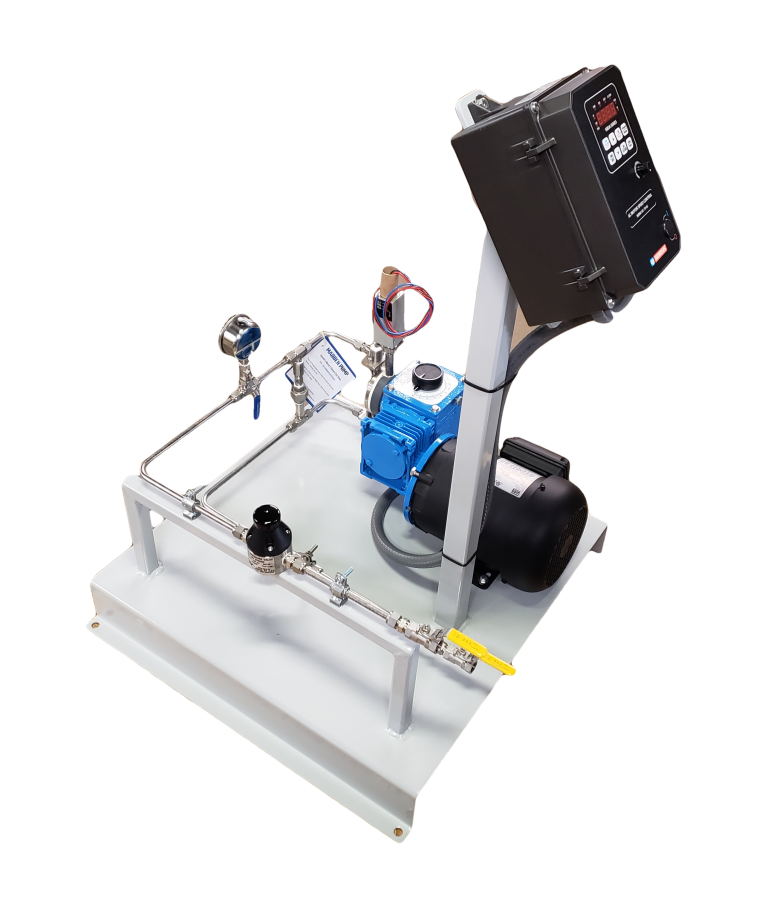 What benefits do the common ancillary products provide?
If you are in the market for a complete chemical injection package, accuracy and consistent, repeatable output should be some at the top of your list for features you are looking for in the chemical metering pump package.
This is because chemicals are expensive. Every single stroke of the pump needs to dose the same amount of chemical as it did before. Wasting chemicals while metering or not injecting enough chemical to your process, can end up being costly; and if not addressed these costs added up over the course of a year become VERY costly.
In a boiler room as an example, saving fuel is a pivotal part of the steam production process. We sell heat recovery systems and blowdown tanks for this as well, so we're quite familiar with the importance of water conservation and saving energy where you can. These chemical injection systems can be another great asset to achieving better water quality and therefore less fuel required for steam production.
The common accessories used on chemical metering pump packages aid your chemical injection pump in being consistently accurate and repeatable in its output, as well as helping to provide a longer service life.
Pulsation dampeners smooth flow to increase pipe and fitting service life, back pressure valves help the pump remain consistent in output, relief valves protect the pump and other ancillary equipment, and so on.

Everything included in our chemical metering system packages is in one way or another geared towards using chemicals as efficiently as possible and increasing equipment service life.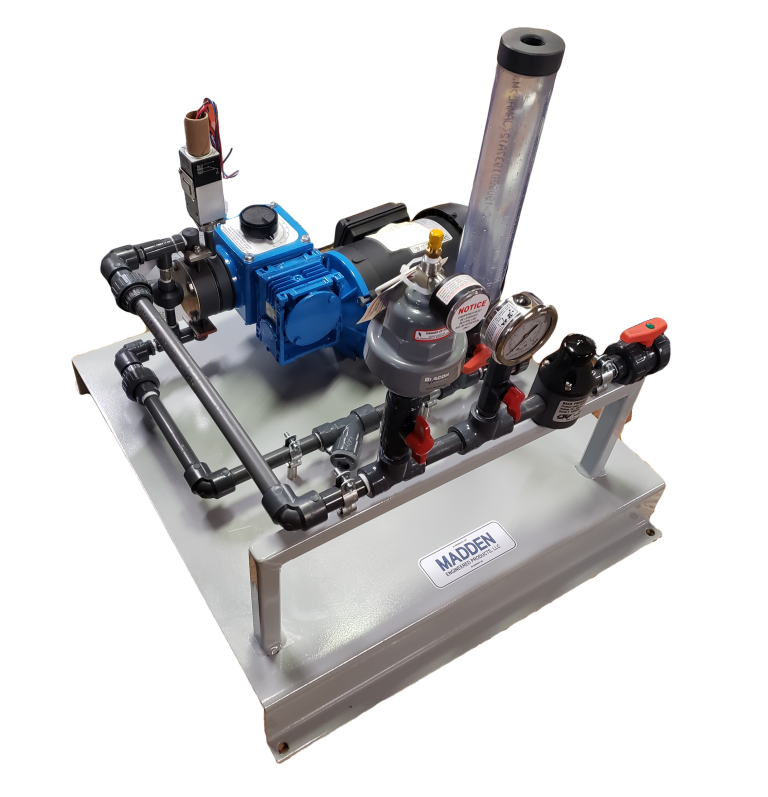 Customer Service and Experience
As a small family owned chemical metering pump manufacturer, Madden values responsive customer service and flexibility for distributors and end users. Most of our business comes from custom builds and repeat purchases from distributors and end users who appreciate our responsiveness and the quality of our product.
---
Trust in our simple, rugged quality.
---
Three individuals at Madden have over 26 years in the chemical metering pump industry. This provides Madden with the ability to review many chemical injection applications and make recommendations for the best size of chemical injection pump for your process, as well as what other components would be needed.