---
Complete Sample Cooling Stations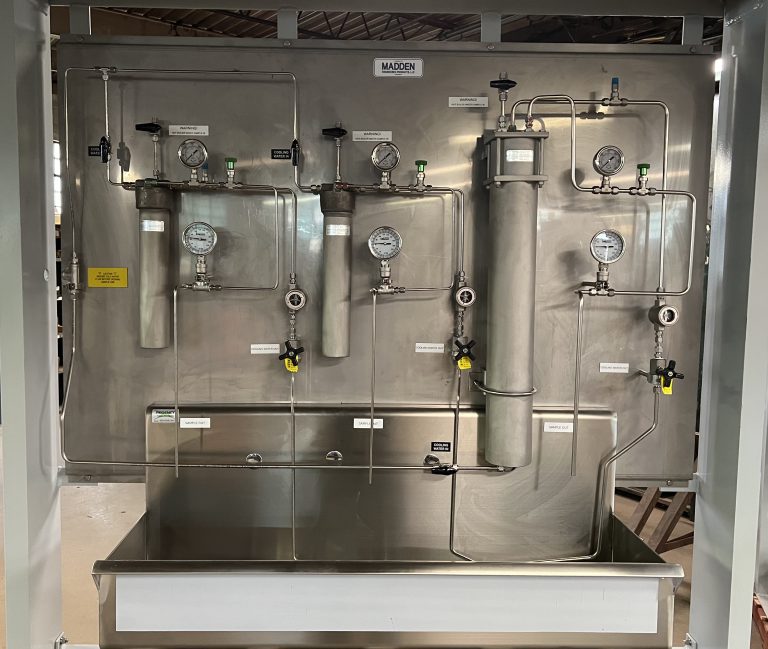 COMPLETE SAMPLING STATIONS FOR BOILER WATER AND STEAM ANALYSIS
COST EFFECTIVE ($$$) – Completely assembled to save additional material costs as well as installation labor.

Madden sampling panels are designed to be practical and durable. Added technology and instrumentation is available by request, not baked in as standard items.

FAST LEAD TIMES – Madden keeps all items in stock for the smaller single unit sample cooler stations. Most of these panels ship in 1-2 weeks or less.
SAFETY & ACCURACY – Adding sample coolers to your boiler room water testing process ensures the operator will be safe from burns and also ensures flashing won't occur when sampling. This improves measuring accuracy and instrumentation service life.
To start your sampling station design, please fill out this PROPOSAL DATA SHEET and we'll start working on a quote!
Check out our most up to date BROCHURE for an overview, selection guide, cooling water parameters, and more.
CONTACT US for sizing assistance and pricing.
OVERVIEW
FEATURES
RESOURCES
Madden sampling stations are designed to save time and cost in your efforts to monitor and maintain good water quality in your boiler processes. The essential elements for true representative sampling are precise temperature, pressure, and flow control. Our systems achieve this with a reliable, pre-assembled design.
Our turnkey sampling stations provide a ready made solution for safely grabbing steam and water samples. Simply mount the station where desired and run the sample lines to the panel and install a drain line. These analyzing stations are often made with an inlet manifold for multiple sampling connections. No need to source and install valves, gauges, sinks, or brackets.
We offer (3) main designs, one designed around boiler water grab samples for feed water analysis, condensate analysis, and D/A water analysis, and the other designed for steam analysis. These designs utilize our Type 1 SC0003 sample cooler for water samples and our Type 2 SC106 sample cooler for steam samples. You can review all our other sample coolers here to see if there's a better model for your particular application.
Features of Complete Boiler Water and Steam Sampling Panels:
Fast lead times: We keep our SC0003 and SC106 sample coolers in stock along with the rest of the equipment so that a complete station can be built in 1 week or less.
Counterflow Cooling: Madden sample coolers utilize counterflow cooling for efficient knock down of hot boiler samples.
Long Service Life: Minimal pressure drop, vibration, and scaling equates to long service life. The standard sample coolers used in Madden's (2) sampling stations utilize a steel outer shell that can be disassembled for cleaning and maintenance and the sample tubing is made of 316SS. The outer shells are available in 304SS as an option on all units.
Simple and Effective Design: As with most of our products we like to focus on providing a turnkey solution without compromising reliability. Wherever possible we utilize Swagelok compression fittings to eliminate potential leak points. For instrumentation we provide simple analog temperature and pressure gauges for the operator to confirm ideal sampling conditions. If higher tech analysis is preferred please contact the factory with your specifications to integrate automated analyzing instruments.
Doesn't Interrupt Boiler Processes: With these completed sample cooler panels there's no need to stop any of the boiler room processes to grab and test the water quality. The feed water can continue to run. Condensate can continue to flow back into the system, and the D/A can run interrupted all while your chemical personnel pass the hot sample through the cooler to test immediately. No need to wait for the sample to cool or risk burning the operator's hands.