Where to buy the best boiler blowdown valve for continuous surface blowdown flow control?
January 13, 2017 by Aaron Rhoade
There are several types of boiler blowdown valves and flow control devices available for controlling your boiler's surface water blowdown. Madden Manufacturing makes an Orifice Meter type valve and they come in two designs, each offering 17 precise and consistent flow rates.
To operate at maximum efficiency, boilers need to continuously dispose of dirty boiler water. Dissolved solids and other sediments can cause your boiler to work harder than it needs to, to produce steam. Intermittently flushing bottom blowdown water and continuously blowing down a small percentage of the boiler's surface water is a good way to maintain clean and efficient boiling.
And this is done with a meter or blowdown valve.
If you are wondering who has the best boiler blowdown valve for continuous top blowdown flow control, allow Madden to make a case for their Orifice Meter type blowdown valve.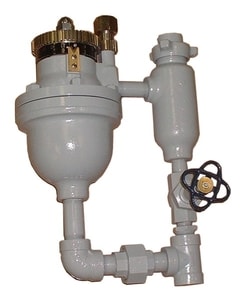 The Madden Orifice Meter offers control of the continuous blowdown flow rate by utilizing 17 different hole sizes drilled into a hardened stainless steel orifice plate. Each hole is drilled to a diameter that will produce the flow rate shown in our charts on OM_datasheet_2016 pages 3 and 4. To cover a wide range of applications, four different orifice plates (1A, 2A, 3A, and 4A) are available to provide a blowdown flow range suitable for the boiler operator to maintain the target boiler water quality level.
In order to function properly, the boiler must have a continuous blowdown skimmer pipe installed inside the boiler drum, with the opening for the pipe within a half a foot of the normal water level in the boiler drum. The Madden Orifice Meter can be mounted anywhere between the boiler and the continuous blowdown heat recovery system.
What makes the Madden Orifice Meter special?
Highlights:
Durable, designed for years of service life, not to be thrown away and replaced
Little maintenance required
500 Brinnell and Stellite finishes on pivotal components
Pieces are lapped together to a light band finish to ensure accuracy and to eliminate leakage
Madden Manufacturing focuses on great customer service and high quality, durable products. Unlike a lot of valves, Madden Orifice Meters are made with a rugged and durable design intended to last for years of service life with little, but extremely easy maintenance required.
Madden Orifice Meters utilize a 100 mesh screen to filter out any small particles in the dirty blowdown water that would otherwise plug the blowdown valve orifices. Cleaning this out is as simple as opening the drain valve at the bottom. Done.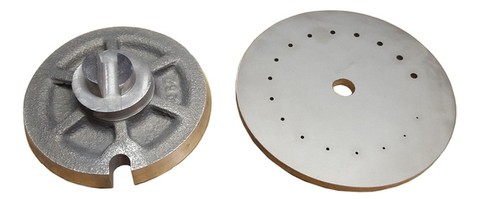 And then the workhorse components that make the orifice meter what it is are the selector disc and orifice plate. Type 420 stainless steel material is used to make the orifice plate. The plate is drilled with 17 holes of increasing size. The orifice plate is heat-treated to 500 Brinell hardness and lapped to a mirror finish with a tolerance of three light bands (0.00003"). This lapped finish prevents high-pressure boiler blowdown water from leaking through any orifice but the one selected. The 500 Brinell hardness is sprayed on so that the orifice plate can withstand high temperatures without sustaining imperfections.
As for the selector disc, the index slot exposes the desired orifice on the orifice plate for service. This rotates when the adjustment key is turned from one index number to another. The disc has a Stellite surface coating and is lapped to the same finish and flatness as the mating orifice plate to ensure a leak-free seal. The Stellite finish is sprayed on the component to help the selector disc become extremely wear-resistant to the high pressure, hot boiler water.
The 500 Brinell hardness on the orifice plate and the Stellite finish on the selector disc ensure our Orifice Meter will withstand the extreme conditions for years of service life. The light band lapped finish ensures that over these years, a solid, leak-free connection between the orifice plate and selector disc will remain.
Conclusion
So in conclusion, if you are looking for where you can buy a boiler blowdown flow control valve, look no farther than Madden's Orifice Meter. It is one of the most durable products on the market offering years of service for your continuous boiler blowdown application.
It will help with boiler efficiency and thus save you money. And on top of all of these features, is its simple and straightforward design. Simply turn the adjustment key to the number you need and that size orifice will control your boiler's blowdown to maintain a consistent and accurate flow. No complicated electronics or sensitive adjustments with this valve. Just rugged, functional accuracy.
If you want to learn more about the Madden Orifice meter, or to place an inquiry, please give us a call at (800) 369-6233 or email info@maddenep.com.