How to size and design a boiler blowoff tank for intermittent bottom boiler blowdown
February 6, 2017 by Aaron Rhoade
You probably constantly consider and implement processes and equipment to help keep your boiler water clean. Clean boiler water produces steam more efficiently, thus potentially saving thousands of dollars every year on fuel costs.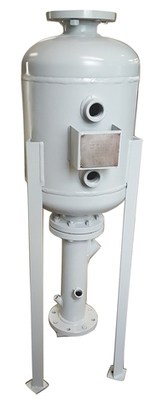 Deaerator tanks, condensate tanks, boiler chemical feed pumps are a few ways boiler feed water is treated to reach optimum efficiency.

Don't devalue the simple task of intermittently blowing down dirty boiler water.

Not to be confused with continuous surface blowdown, intermittent bottom blowdown is the process of (usually) manually flushing dirty bottom boiler water out of the boiler. This is often performed 2-3 times throughout the day.
No matter how well boiler water is treated and handled before entering the boiler, when boiling, sediments and dissolved solids will form in the boiler. To this day there is still nothing better than directly flushing the boiler of this dirty water intermittently throughout the day.
And a properly sized blowdown tank is important for safe and legal disposal of the boiler blowoff water.
What is the Purpose/Function of boiler blowoff tanks?
First let's make sure we understand the function and purpose of a blowoff or blowdown tank. Boiler blowdown tanks are designed to handle a large, somewhat instantaneous flow from the flushing of a boiler. This is normally a 30 second to 1 minute processes. When the hot, high pressure boiler blowdown enters the low pressure blowdown tank, flash steam is created.
The steam leaves the tanks through the vent, which is usually vented to atmosphere, and the remaining hot blowoff water cools naturally at the bottom of the tank for a 6-12 hour period. If sized correctly the initial amount of dirty boiler water remaining after steam has flashed, will reach up to but not leave out the over flow drain until the next boiler blowdown process occurs.
From here on out, the hot blowdown will enter the tank, flash steam will be vented, and the remaining hot water will immediately quench with the since cooled blowdown water and leave out the over flow drain at a temperature under 140 degrees. This is a reoccurring process.

So the three most important things to consider when designing a boiler blowdown tank to safely remove the hot, high pressure water are: Vent size to handle flash steam, capacity of tank to hold remaining hot water, and overflow drain size.
How Madden Manufacturing sizes boiler blowdown tanks
If you do not already know the capacity of the tank needed, the data required for sizing calculations are: the boiler's blowdown pipe size, boiler(s) steam drum diameter & length, and the boiler operating pressure.

Here's the process:
We can use the operating pressure to find the percentage of flash steam that will occur when venting to atmosphere
Madden Manufacturing will then find your pipe capacity flow via the blowdown pipe size. This along with operating pressure will give us an expected blowdown rate.
From here we can adjust the size of our tank diameter, height, vent, and drain size to see what the most cost effective design is, that will safely dispose of your boiler's hot blowdown water.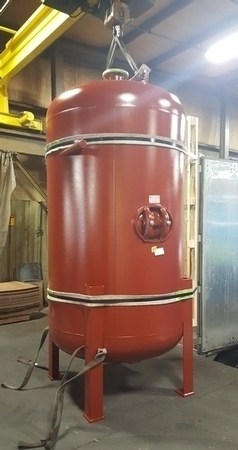 Customizing
With the last bulleted point in mind, let us know if you have certain parameters for us to factor in when designing your boiler. We can offer you different heights and widths of tanks based upon your available space. We've even designed blowdown tanks to function horizontally when necessary, though it is rare to have height restrictions before floor space restriction.
The construction of standard Madden Manufacturing boiler blowoff tanks meets ASME Section VII, Div. 1, 50 PSI DWP, and all come with a National Board serial number. If you have extreme requirements that you believe needs a tank with a higher pressure rating, we can do that too. But Madden encourages all potential customers to call in first as it is likely no matter how high the operating pressure is in your boiler, a 50 PSI tank is more than sufficient enough to handle the blowdown.
Conclusion
If you are currently in the process of a new boiler room installation, make sure to contact Madden Manufacturing about any of your boiler blowdown needs. We have many products, like our blowdown tanks that are ready to serve your application for years to come. For example blowdown separators would be another great product to look at if you need a more economical way to handle blowdown as well as a desire to save floor space!

If you want to inquire about a tank, please see our sales rep page or send us an inquiry directly at info@maddenep.com or call 800-369-6233. We'll quickly get you a blowdown tank design to consider for your project.
Thanks for reading. Have a great day!